COVID-19 is the first global pandemic for aviation. The medium- term effects on the entire industry are currently characterised by high uncertainty. Within a scenario study 1 , the Technical University of Munich, Airbus, Munich Airport, and Bauhaus Luftfahrt present three possible future scenarios on alternative developments of the COVID-19 pandemic and the aviation system up to 2030.
The scenarios assume that the passenger volume of 2019 will be reached in 2023 at the earliest and in 2026 at the latest. The travel-hygiene-related measures that have been put in place will continue until at least 2024 in all three scenarios, although contactless travel could become a new standard. Depending on the scenario, isolated virus outbreaks could occur at regional levels until 2030. The trend towards digitalisation, which was already evident before the crisis, will continue in all three scenarios and could be reinforced by the pandemic. This might result in new business opportunities for greater usage of passengers' data or enable tech companies to enter the aviation sector.
In addition to pandemic variables, environmental-related factors and passengers' behaviour are considered as well. Thus, a holistic picture of the aviation system is provided within the scenarios. This perspective brings a new dynamic into the market: In addition to pandemic developments, the industry's recovery depends on how well individual players realign to changes in the market and to passenger and societal expectations regarding sustainability, for example.
Scenarios depict the possible future of the aviation system up to 2030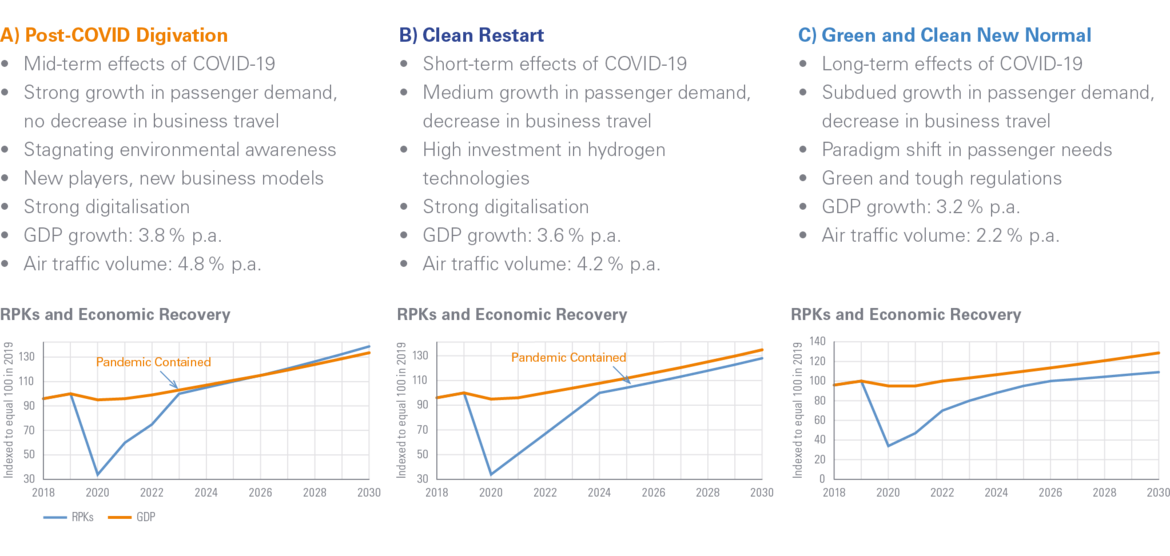 In Scenario A, passengers' data is monetised. Due to a fast recovery and social pressure, investments in hydrogen 2 are made in Scenario B. Scenario C is characterised by high environmental awareness among passengers.

The scenario analysis is an established research method to enhance the understanding of future trends and market dynamics.
1
Michelmann, J., Schmalz, U., Becker, A., Stroh, F., Behnke, S., & Hornung, M. (2021). Influence of COVID-19 on air travel – A scenario study towards future trusted aviation. Manuscript submitted for publication.
2
Die Zukunft von Wasserstoff wurde in einer weiteren Szenariostudie näher untersucht. Die Ergebnisse sind in diesem Jahrbuch ebenfalls beschrieben.